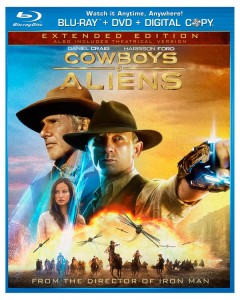 Universal has announced Cowboys & Aliens will be released to Blu-ray Disc and DVD on Dec. 6, 2011. The title will be available in a Blu-ray Combo Pack which includes an extended version of the film, along with DVD and digital copy. And, it looks like Universal will release the film in both Blu-ray and DVD packaging (see alternate packaging below).
Bonus features on the Cowboys & Aliens disc include a behind-the-scenes extra titled "IGNITING THE SKY: THE MAKING OF COWBOYS & ALIENS" made up of three production featurettes that include conversations with actors and filmmakers. Exclusive to Blu-ray, director Jon Favreau reveals his on-set video diaries. And, the BD includes a look at the creation of the detailed mining town where the film takes place.
Other Blu-ray extras include BD-Live, pocket BLU, and a new interactive viewing experience called Universal's Second Screen. With Second Screen and a networked laptop or tablet you can interact with the movie as it plays, pulling up supporting content such as storyboards and 3d models.
The Blu-ray Disc will be presented on a BD-50 in widescreen 2.40:1 with English DTS-HD Master Audio 5.1/DVS 2.0 for sound. The film itself runs 1 hour, 59 minutes (theatrical) or 2 hours, 16 minutes (extended). Bonus features run over 2 hours.