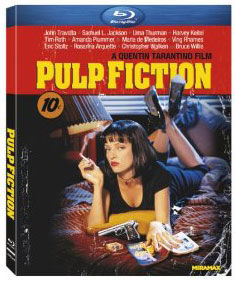 This week The Lion King is the king of the jungle, at least by the amount of Blu-ray Disc editions that are available. Don't be confused when you're faced with deciding between a Two-Disc Diamond Edition, Four-Disc Diamond Edition, Eight-Disc Combo, and Two-Disc Diamond Edition in DVD packaging (DVD, what the hay?). Finally, yes finally, Quentin Tarantino's Pulp Fiction is available domestically on Blu-ray Disc after several imports teased us over the last couple of years. In the same genre (and by the same Director), Jackie Brown starring Pam Grier and Samuel L. Jackson is now available on Blu-ray Disc. And, we gotta mention a late 90's theatrical release called Space Jam starring none other than Bugs Bunny along with NBA great Michael Jordan is now available on hi-def Blu-ray.
Our Blu-ray Disc picks for the week of Oct. 4, 2011:
Disneynature: African Cats
The Lion King
The Lion King Trilogy (Eight Disc Combo)
Pulp Fiction
Fast Five
Jackie Brown
Beauty and the Beast (Five Disc Combo)
Scream 4
Disneynature: African Cats
Ken Burns: Prohibition
Cinema Paradiso
Here's a list of all this week's Blu-ray Discs available at Amazon.com. While you're there, let us know what the best Lion King deal is.