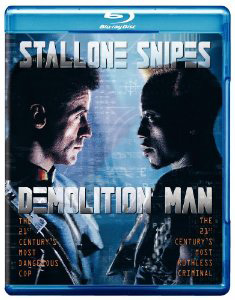 Like most recent weeks the Blu-ray Disc releases have dwindled down to a few hit titles and maybe a good TV show boxed-season. But at least this week we're treated to a handful of Sly Stallone movies from the 80's and 90's now transfered to hi-def Blu-ray: Cobra (1986) capitalized on Stallone's success with the Rocky and Rambo series and at the time starred a very familiar Brigitte Nielsen (Red Sonja); Wesley Snipes (Blade, U.S. Marshals) stars with Stallone in the futuristic Demolition Man (1993); Assassins (1995) pits Sly as hitman Robert Rath against a younger but more reckless assassin Miguel Bain played by Antonio Banderas. And, the beautiful Sharon Stone stars along with Stallone, James Woods and Eric Roberts in The Specialist (1994).
Here are some other Blu-ray picks for the week. Click here
for all new releases hitting shelves today.
The Big Lebowski (Limited Edition) [Blu-ray Book + Digital Copy]
Dexter: The Fifth Season
Priest (Unrated Version)
The Conspirator (Deluxe Edition)
The Killing: The Criterion Collection
Demolition Man
Something Borrowed (Blu-ray/DVD Combo + Digital Copy)
Hoodwinked Too! Hood vs. Evil
Cul-de-sac: The Criterion Collection
Armed and Dangerous
Assassins
Demolition Man
The Specialist
Cobra