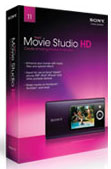 With a list price of $49.95, Sony's new video editing software is geared towards ease-of-use and compatibility with mobile devices. The software is part of Sony's "home suite" of video and sound editing applications. New features in HD 11 include image stabilization, improved QuickTime AVC decoding, and a new plug-in that enables Titles and Text. Now supported video formats include 24p, 50p, and 60p, with the ability to output edited videos compatible with iPhone, iPod, PSP, YouTube and YouTube.
New Features in Vegas Movie Studio HD 11 Include:
All-new "Render," "New Project" and "Make Movie" Wizards – New wizards help users create projects, render to specific file formats and publish directly to YouTube with increased efficiency and speed.
Image Stabilization – The Stabilize Media tool enables users to drastically reduce shaky video and fix camera abnormalities caused by rolling shutter.
Additional Video and Audio tracks – With up to 10 video and 10 audio tracks per project, users can generate extensive text and video layers, and have plenty of room for additional voiceovers, sound effects and music.
Titles and Text Plug-in – A broad selection of presets and templates allow users to easily create visually stunning text animations and effects that can be modified and adjusted for a broad assortment of creative options.
Automatic White Balance – The White Balance plug-in enables users to automatically correct color inconsistencies in their photos and video files.
Added File Format Support – Creative professionals, students and hobbyists working with these studio and cinema-level progressive formats are able to edit and output videos in 24p/50p/60p file types.
Audio Event Effects – Users gain greater precision over the placement of audio effects, as they can now apply effects directly to the event level.
Improved QuickTime AVC Decoding – Users of cameras that record to QuickTime AVC formats will now experience remarkable gains in playback performance.