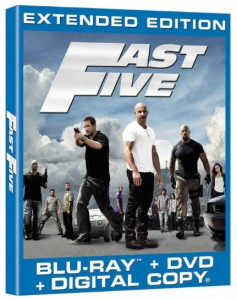 Universal Studios has announced a street date for "Fast Five" starring Vin Diesel, Paul Walker, and Dwayne Johnson. The Blu-ray Disc and DVD will hit shelves on October 4, 2011, as well as the options to view On Demand or purchase a digital version. The title will be released in several different disc formats which include a never-before-seen extended edition on the Blu-ray/DVD Combo Pack with Digital Download.
The Blu-ray and DVD bonus features include deleted scenes, gag reel, several featurettes, and audio commentary with director Justin Lin. Exclusive BD bonuses include pocket BLU, BD-Live, uHear, and several featurettes not included on the DVD.
The Blu-ray version will also include an introduction to Universal's Second Screen, a pocket BLU app that provides interactive movie viewing via your tablet or PC. You can preview how the app works at http://preview.tinyurl.com/UniSecondScreenF5preview.
The Blu-ray Disc is formatted in 2.35:1 widescreen aspect ratio, with Dolby Digital 5.1.
Universal Studios Home Entertainment says the Extended Editions will only be available for a limited amount of time.
[Image credit: Universal Pictures 2010]
Fast Five on Blu-ray Disc and DVD is available to
pre-order
from Amazon.com.