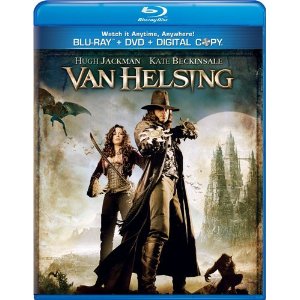 Long awaited, but never forgotten, New Line's The Lord of the Rings: The Motion Picture Trilogy Extended Edition is sure to get votes for the best Blu-ray Disc of the year. At 682 minutes you'll be busy for over 11 eleven hours watching all the content spread out on, get this, 15 discs! They're not all BDs though. Nine of those discs are standard-def DVDs. But the important thing is all three of the extended movies are in 1080p with DTS-HD Master Audio 6.1. What better than a July 4th LOTR weekend marathon? Buy It.
Sucker Punch, this year's title from Warner Bros Pictures, gets released as a Blu-ray Disc/DVD Combo along with a Digital Copy for smartphones, tablets, or whatever mobile device you play movies on. The disc contains both the new extended cut and theatrical cuts of the film, along with "motion comics," storyboards, and other bonus material. Buy It
Universal Studio's Van Helsing, interestingly enough, was released about a week ago as a single-disc Blu-ray. But this week the title has also been released as a Blu-ray Disc/DVD Combo with Digital Copy. This is a great film, especially if you like Hugh Jackman and Kate Beckinsale, but even more so if you're into classic monsters such as Dracula and the Wolfman. Buy It.
Well, those are the picks for this week. Easy enough right? Here's a list of all new Blu-ray Discs hitting shelves today if you want more.