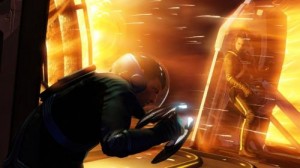 Paramount's Digital Entertainment division will debut the CBS-licensed video game "Star Trek" at E3 this week. The game's story is based off the latest "Star Trek" (2009) movie from director J.J. Abrams, with Kirk and Spock as the center characters. "Star Trek" is being developed by Digital Extremes ("Bioshock 2," "Unreal Tournament") with help from Bad Robot, K/O Paper Products and Damon Lindelof.
"Working closely with the Star Trek filmmaking team throughout development, the game is sure to deliver AAA production values, a wide variety of gameplay and all the action you would expect from the hit franchise," said Tom Lesinski, President of Paramount Digital Entertainment.
"Star Trek" will be available for PS3, Xbox, and Windows PC. The co-op adventure game is slated for release in 2012.