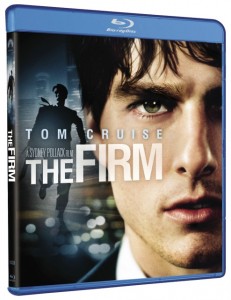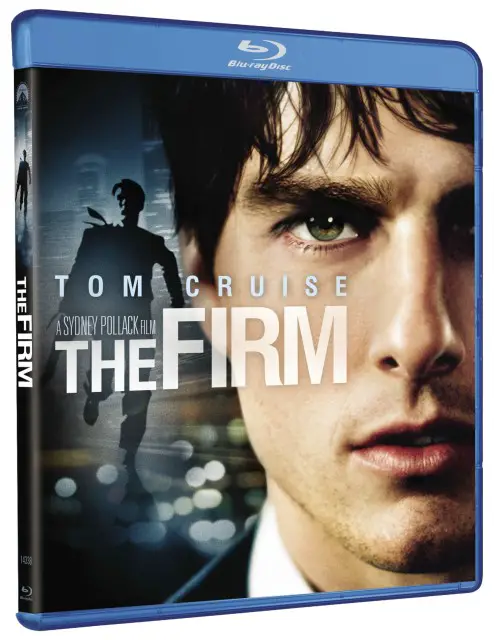 This Sunday on Blu-ray, Paramount releases The Firm (1993) starring Tom Cruise… but is it worth buying or are we being asked to purchase something that, sooner or later, probably soon, will end up a lot cheaper after being dumped into a bargain bin?  Let's find out…
It should be noted that this catalog release of The Firm on the BD format can only be purchased via the big-box retailer, Best Buy as of this Sunday, May 29th… it's a limited exclusive.  However, for a roughly $19.99 Suggested Retail Price, though you might find it for around $15 at some Best Buy locations or on sale at BB via a weekend ad) you get the movie, the whole movie and not much more besides just the movie.  For a popular film, even one going on its 20-year mark, that features one of America's (still!) hottest stars, you'd think Paramount might have dug a little deeper into their archives on this one… maybe even coughed up an interview or two with Grisham or other principals (sadly, the director, Sydney Pollack died a few years ago), but no… this is a bare-bones release simply designed to lure you into a Best Buy over the next few weeks and it will eventually end up at other retailers without much else besides a very nice movie inside the typical BD packaging.  Sad, because though this isn't Pollack's finest hour, it's still one of Cruise's best, and it probably deserves a little more love from Paramount's home entertainment division.  Alas, alack… this is what we've got:  A good, but not great transfer with decent sound, and the teaser and theatrical trailers tossed in as the merest of extras.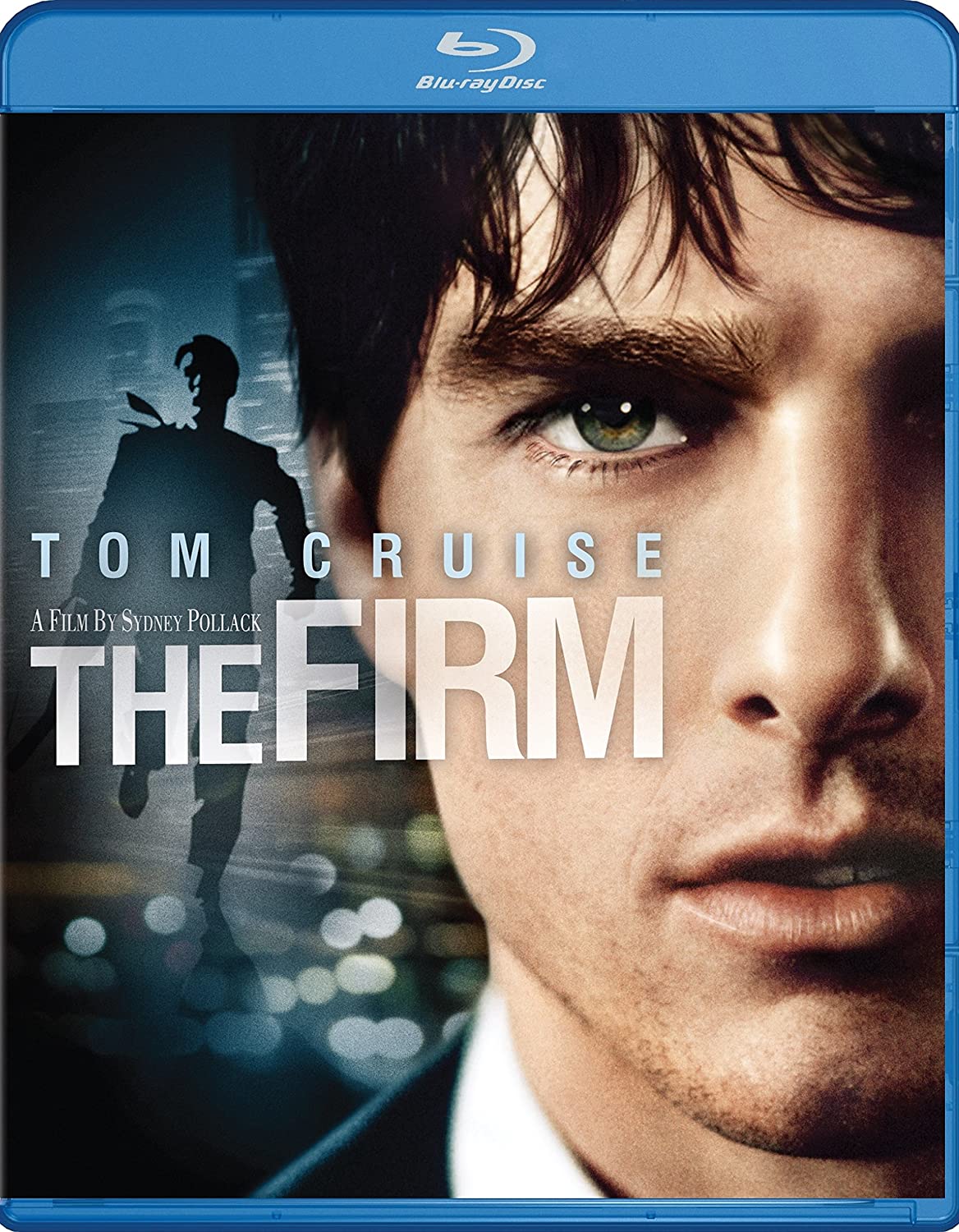 The story, adapted from one of John Grisham's best legal potboilers, is simple enough…  A newly minted Harvard law grad Mitch McDeere (Tom Cruise) comes from a rough n' tumble background (or so we're made to infer) and doesn't talk about his impoverished
upbringing or his troublesome family… he distances himself from an imprisoned brother and tries to prove to his young wife, Abby (Jeanne Tripplehorn) that he can succeed in the legal profession and, as God is his witness, he'll never be hungry again.
Mitch is noticed by all the top law firms, who interview him and are impressed, but it's his turn to be impressed when a small, but important, Memphis law firm comes a-callin'.  Bendini, Lambert & Locke may not seem like much on the outside, and well, that's just the perception they like… since their main business is quite shady and often leads to lawyers in their firm taking permanent vacations from life itself.  Mitch, unaware, is seduced by a fat paycheck, choice of a hot car, and payment of his student loans by the firm, but the firm also has their conditions… the price paid to the Devil for some tricks at the crossroads.
The firm's partners, played with a fair amount of mystery and loads of gravitas by the great Hal Holbrook and Gene Hackman (along with familiar character actor Jerry Hardin), are all in accord that new lawyers in their organization pass the bar exam on the first try, that their wives immediately have children and put family first, and that these young lawyers are mentored in the special ways of doing business…  and how to bill their clients for every waking (and sleeping) moment they're working a case, even if it's only a brain fart in the shower.  Turns out the firm has one special client in particular, and that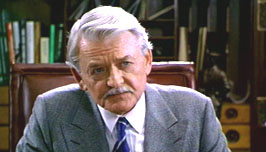 client doesn't like it very much when the firm's young legal eagles decide to go AWOL or dig deeper into things they're better off ignoring.  When a few lawyers suddenly end up dead while on business in the Cayman Islands, McDeere realizes something is amiss, and when the FBI (smartly led by the investigative team of Ed Harris and Paul Calderone) thinks they can use McDeere to nail that one client, well, suddenly the young Harvard lawyer is in a mess of Memphis mud up to his ears, and sinking quick.  The fantastic cast is rounded out by an Oscar-nominated Holly Hunter in a role that's all legs, ass, and sass; Gary Busey in a short turn as a tightly wound P.I., and Wilford Brimley and Tobin Bell (Jigsaw himself!) as the firm's primary security team… a team sometimes tasked with murder.
This is a film that relies on a crackerjack adaptation of a well-known crowd-pleaser, and the screenplay by Hollywood and Broadway aces David Rabe, Robert Towne, and David Rayfiel is worthy of the adoration Grisham's fans give the book.  The thriller elements are probably the best thing a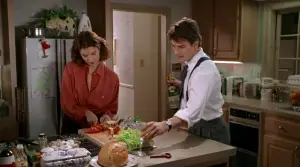 bout the movie, and there's rarely a false note to Mitch's motivations or reactions to his circumstances.  The screenwriters are confident enough to stray from the book and, probably at the studio's insistence, if not Cruise's, the character of Mitch is sweetened a bit, and allowed an upstanding resolution from his predicament that the book didn't offer readers.  It may be a compromise of sorts, and definitely allows us to identify with Mitch more toward the end, but it in no way compromises the fun entertainment value of the film from start to finish.  Sydney Pollack, as eclectic a director as they come, serves up the material with some of the intensity of his classic Three Days of the Condor while never allowing style to get in the way of substance.  If anything, The Firm is a throwback, and really bridges the gap, between the traditional Hollywood way of
shooting a thriller and the MTV-style of fast editing so beloved by directors like Tony Scott… where it's less about the substance, and more about the style of being chased endlessly (with lots of explosions of course).  Whereas in today's thrillers a handheld camera whirls non-stop to capture action while editors attempt to make sense of it all for the audience, here the camera is at the service of the story and characters.  If The Firm feels a little flaccid as an action picture, it more than makes up for it as a drama.  It's a fine film, maybe not a classic or masterwork in any sense, but still a valid entertainment that holds up decades after its theatrical release.
Now, about that exclusive Best Buy Blu-ray…  I'm going to go against the grain (so to speak) on this one…  Many reviewers are saying that the video looks terrific and that Paramount's transfer to a MPEG-4 AVC / 50GB (1080p, 1.78:1 widescreen) disc is, if not excellent, very good.  But after viewing the film twice on the Blu-ray HD Report was provided, I was pretty much underwhelmed by what I saw.  On popping the disc into our Sony PS3 (say what you will about recent problems Sony's had with the PS Network, but the PS3 is still, by far, one of the best Blu-ray players out there and used for reviews) I noticed sloooooow load times, which was weird for such a slim release without much data other than the movie itself.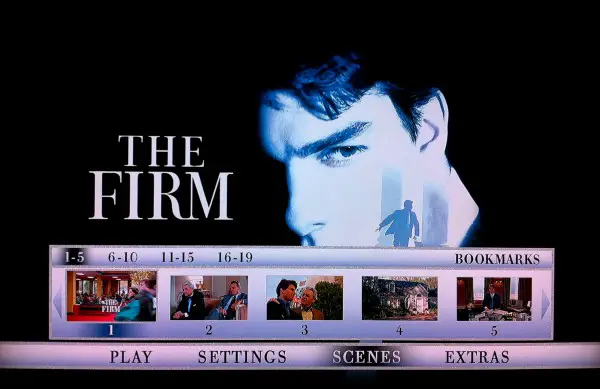 Once loaded and the 90s version of the Paramount logo came on, I immediately noticed that the video was just as good as the DVD, but certainly not extraordinarily better.  What the Blu-ray transfer does right is not scrub the image to death with DNR; however, the transfer leaves a respectable amount of grain (what a release print on film should look like), and there's also plenty of video drop out (pause the disc and notice loads of black specs and digital noise where the image should be) and, oftentimes, the image looks too soft.
Now, granted, this is most likely due to the age of the film elements used for the transfer.  The Firm is a product of the filmmaking technology of the time (heck it was only 1993!), but unlike other late 80s and early 90s releases, Paramount hasn't done much to make the image quality stand out in the HD format.  Certain scenes have a very crisp look that appears great via Blu-ray, but some other sequences, noticeably those shot outdoors (save for the outdoor BBQ sequence in the movie's first quarter), have a slightly washed-out look that made me think I'd stuck a DVD edition in my player by mistake (without upscaling, mind you).  Both the beginning and end of the film (where 2nd unit and stock footage has been used for exposition) seem to have a softened image that lacks detail, with some banding of the image evident… and I'm not saying that this Blu-ray must have the kind of hard edges that some BDs have in abundance (edge enhancement to the point of annoyance), but there is an overall lack of depth and sharpness, leaving faces sometimes looking mushy, with finer details bleeding into one another.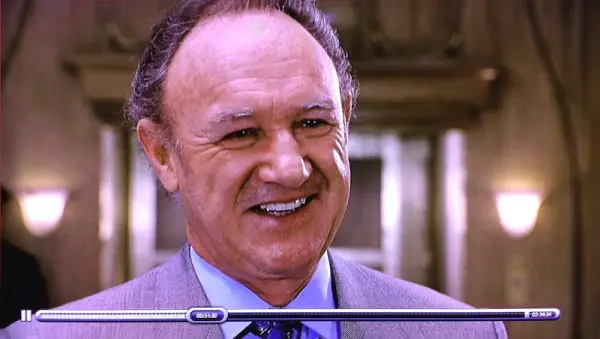 Then again, some scenes, mostly interior scenes, have a warmth and sharpness that acquit themselves well in the HD format, with rich colors throughout and (mostly) solid black levels… but on the whole, there seems to be an uneven quality to the transfer that I found unappealing.  Though Paramount says on the box that this is a digital restoration for HD, I honestly don't think that's the case.  More than likely, they've used the same elements for the Blu-ray that were used for the DVD version… and it shows.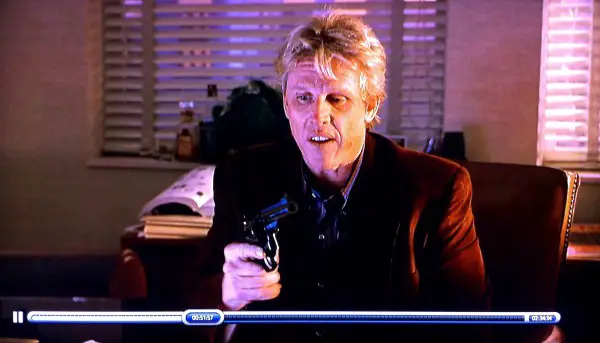 Meanwhile, the disc sounds pretty darn good, with the action playing out over multiple channels, but without much in the way of back-channel ambiance.  Dialogue sounds nice and clear from the center and front channels. More than anything, it's nice to hear Dave Grusin's Oscar-nominated score (as sassy as Holly Hunter's performance) play out in Dolby TrueHD 5.1.  The rollicking, piano-heavy score always sounds great on this disc, and is a highlight of the movie, but don't expect the kind of gangbusters sound that recent theatrical releases command on an HD audio setup. It's Memphis mellow, let's put it that way.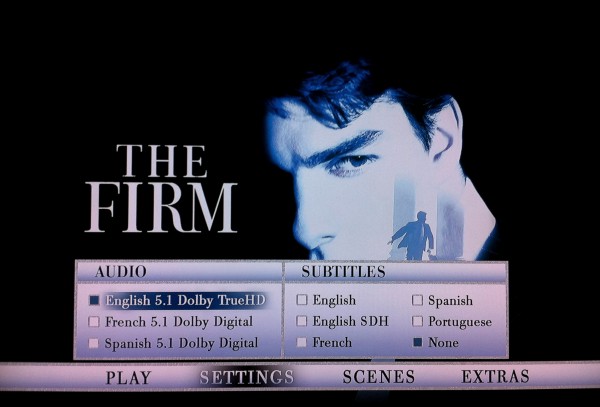 As for extras… Well, I've already mentioned the two you get.  On the single BD disc, you'll find the movie's original teaser and full theatrical trailers… that's all folks!.  This probably won't change once this BD is no longer the exclusive product of Best Buy, but then again, perhaps Paramount will put a little more love into it for a double-dip down the road (a special edition perhaps… especially in light of the film's importance in Tom Cruise's overall career).
This would make a fine $10 Blu-ray purchase, but for more than that, I'd like a few extras…  a cheesy EPK segment, a commentary by the late Sydney Pollack if there's one he left behind, or maybe commentary from the other A-listers… an actor's gang commentary would be awesome, but without something like that (at least) the release of The Firm on Blu-ray is a rather lackluster affair.
WHITE SPACE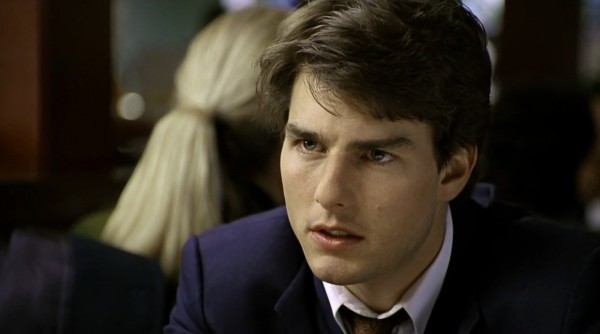 WHITE SPACE