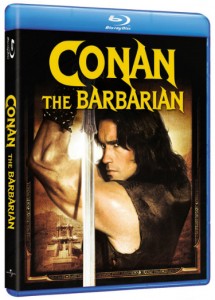 "Crom,… Grant me revenge! And if you do not listen, then to HELL with you!" Is there anyone who could possibly play Conan better than the former "governator" of California? I think not. But the 2011 3D remake of "Conan the Barbarian" will certainly take a stab at it. As Lionsgate promotes the upcoming film set to hit theaters on August 19, NBC/Universal will release "Conan The Barbarian" (1982) to hi-def Blu-ray Disc on August 2.
"Conan The Barbarian" is presented on a single BD-50 in widescreen format with DTS-HD Master Audio 5.1. Extras include commentary from Director John Milius and Arnold Schwarzenegger, several production featurettes including "Conan Unchained: The Making of Conan," "The Conan Archives" and theatrical trailers. Blu-ray extras include BD-Live, My Scenes and Pocket BLU.
"Conan the Destroyer" (1984), will also be released to Blu-ray Disc on the same day, although it doesn't appear to have any extras other than BD-Live, My Scenes and Pocket BLU. The sequel grossed only half the amount at the box office even with the appearance of 80's phenomenon Grace Jones. Now, if only "Red Sonya" were to get a hi-def transfer the circle would be complete.
Conan The Barbarian on Blu-ray Disc | List: $26.98 | Current Price: $18.99 | Pre-order Now