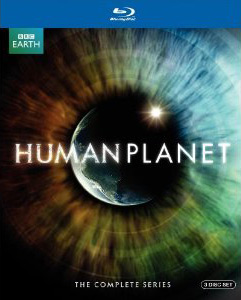 It's not a huge week for new Blu-ray releases but there are some notable titles you'll want to check out. Probably the most suggested Blu-ray to add to your collection this week is "Human Planet" from BBC/Warner. In the style of "Planet Earth" and "Life," "Human Planet" examines mankind's relationship with nature through footage from all types of living environments. About 80 locations were filmed in HD and edited for the eight-part television series. "Human Planet" also features the extra "Behind the Lens," – a set of ten 10-minute featurettes about the making of the series. Also, a special BD-Live feature titled "Zanskar" talks about a population of that lives on the edge of the Himilayas. Amazon is currently selling "Human Planet" for 34-percent off the sticker price of $49.99.
Other Blu-ray releases this week:
Human Planet (with voice overs from John Hurt)
Eden of the East: The King of Eden (Blu-ray/DVD Combo)
Blow Out (The Criterion Collection)
Fear and Loathing in Las Vegas (The Criterion Collection)
South Park: Complete Fourteenth Season
Sin City (Two-Disc Theatrical & Recut, Extended, and Unrated Versions)
El Topo
Daylight
The Queen
Bob Dylan: Don't Look Back
The Other Side of the Mirror – Bob Dylan Live at The Newport Folk Festival 1963-1965
Here's a link to all this week's Blu-ray Disc releases available at Amazon.com.