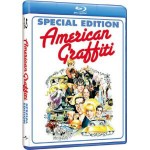 Harrison Ford picking up chicks in a hot rod? That's right. Before "Star Wars" and "Indiana Jones" Harrison Ford starred in what is one of George Lucas' most memorable and classic films: "American Graffiti." The film was nominated for five Academy Awards in 1974 including Best Picture and Best Director (those Oscars went to "The Sting" (George Roy Hill). "American Graffiti" also stars a few more actors you may have heard of including Richard Dreyfuss, Ron Howard, and Cindy Williams.
Now, "American Graffiti" is getting a Special Edition release from Universal Studios on Blu-ray Disc & DVD. Both formats will contain new director commentary, but while the Blu-ray Disc contains the new comments in video, the commentary on the DVD is strictly audio. This is also the first time "American Graffiti" has been made available in hi-def disc format.
On Blu-ray, the BD-50 is presented in 2.35:1 widescreen aspect ratio with English DTS-HD Master Audio 2.0. (The DVD is formatted in Anamorphic Widescreen.) Extras on the Blu-ray and DVD editions consist of Screen Tests (BD only), Theatrical Trailer, and The Making of American Graffiti" documentary. The Blu-ray also contains exclusive features such as U-Control, pocket BLU, uHear, and BD-Live.
"American Graffiti Special Edition" will release to Blu-ray Disc and DVD on May 31, 2011. Pre-order now.