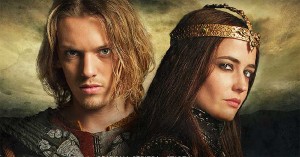 Tonight Starz will premiere a new television series which takes a younger spin on the story of Camelot. In the show, English-born Jamie Campbell Bower stars as a 20-year old King Arthur who is not the rooted, older Arthur typically depicted in other Camelot renditions. Instead, Arthur ends up ruling a monarch after the death of King Uther where he finds plenty of confusion. Someone who guides him is Merlin, played by Joseph Fiennes (Shakespeare in Love), who is also younger than we typically expect. Eva Green (Casino Royale) plays Morgan, the half sister of Arthur, who in Green's words is "kind of Joan of Arc mixed with Lady Macbeth." Morgan, being the daughter of King Uther, will stop at no end to gain the thrown.
Camelot begins tonight, April 1, with a two-hour premiere at 10 p.m. ET/PT. The show is scheduled to run on Friday evenings extending 10 episodes.
Starz broadcasts in 480i (SDTV) and 1080i (HDTV).