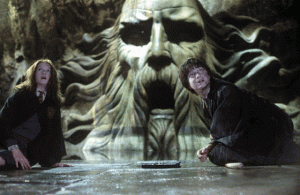 After initially offering users the ability to stream "The Dark Knight" within the Facebook website itself, Warner Bros. has added five new premium titles to the lineup. "Harry Potter and the Sorcerer's Stone," "Harry Potter and the Chamber of Secrets," "Inception," "Life As We Know It," and "Yogi Bear" are now rentable streaming titles, even more reason never to leave the leading social website.
The Warner titles were not, as you might guess, picked out of a hat. Instead, each title was chosen specifically for popularity. "The Fan Pages for 'Harry Potter' and 'Inception' alone are two of the most popular and active communities on the site," said Thomas Gewecke, President of Warner Bros. Digital Distribution.
Warner titles can be rented by clicking "Watch Now" and your Facebook credits (if you have enough) will be applied. For example, the rental cost for "THe Dark Knight" was 30 credits, or $3. Once the title is rented, you'll be able to control the digital movie for up to 48 hours after purchase.
Should Netflix, Amazon, and other streaming movie services be concerned? Or is Warner Bros. just touching a niche that may never evolve into mass use?