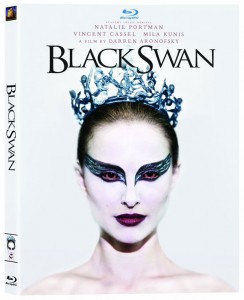 Oscar winner Black Swan starring Natalie Portman and Mila Kunis is now available on Blu-ray Disc. The psychological thriller from Fox Searchlight Pictures was directed by Darren Aronofsky (The Fountain, The Wrestler) who was nominated for Best Director. The single-disc release contains a digital copy, BD-Live and mobile features.

Disney's Tangled gets released as both a Two-Disc Blu-ray/DVD Combo and Four-Disc Blu-ray 3D/Blu-ray/DVD with Digital Copy. The BD release contains extras such as three deleted scenes, featurette "The Making of a Fairy Tale," two extended songs, and three theatrical teasers. The DVD also contains two original storybook openings and 50th Animated Countdown.
The Ten Commandments from 1956 is now available on Blu-ray Disc as both a Two-Disc Special Edition and Limited Edition Gift Set. The Ten Commandments stars Charlton Heston, Yul Brynner and Edward G. Robinson. Extras on the BD release include film commentary by author Katherine Orrison, Newsreel: The Ten Commandments – Premiere in New York HD, and Theatrical Trailers HD. The Limited Edition Gift set also includes a never-before-seen, hour-long documentary on the making of The Ten Commandments.
Another classic Heston film, Soylent Green, also gets a hi-def disc release. The must-see sci-fi film from 1973 was written by Stanley R. Greenberg (based loosely on "Make Room! Make Room!" by Harry Harrison) and directed by Richard Fleischer. Ask any student of film how important Soylent Green is to contemporary sci-fi movie making and you'll get a "Hell ya' it's important!"
Click here
to see all new Blu-ray releases available at Amazon.com
Selected titles this week include:
Black Swan
Tangled (Two-Disc Blu-ray/DVD Combo)
Tangled (Four-Disc Combo: Blu-ray 3D/Blu-ray/DVD/Digital Copy)
Mad Men: Season Four
The Ten Commandments (Two-Disc Special Edition)
The Ten Commandments (Limited Edition Gift Set) (DVD/Blu-ray Combo)
Soylent Green
Fair Game
Scream 2