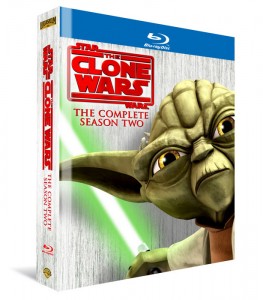 This week's Blu-ray Deals include big discounts Star Wars The Clone Wars: Season One and Star Wars The Clone Wars: Season Two. Both 3-disc packs are marked down from $59.98 to $25.99, a 57-percent savings of $33.99 per disc set. (Click here for the Blu-ray Deal of the Week from Amazon.
)
Both Season One and Season Two of Star Wars The Clone Wars on Blu-ray Disc contain all 22 episodes, Jedi Temple Archives, behind-the-scenes featurettes, director and artist commentaries, and a 68-page production journal. The discs from Warner Bros are formatted in 1080p with 2.35:1 widescreen aspect ratio and Dolby Digital 5.1 audio.
In The Clone Wars, the Star Wars saga is taken back to the original film when Obi-Wan Kenobi tells Luke Skywalker that he was once a Jedi knight the same as your father and that they fought together in the Clone Wars. Since that moment fans have been obsessed with what the clone wars were. This new TV series takes place immediately after the events of Star Wars-Episode II: Attack of the Clones. The series follows Obi-Wan Kenobi and his apprentice Anakin Skywalker and introduces us to some new characters such as Ahsoka Tano a girl Jedi knight as well as characters we already know.