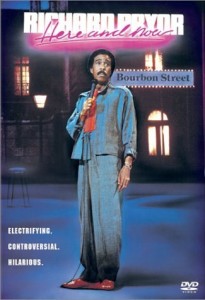 Sony Movie Channel will be launching what they call "Friday Features" starting this Friday, April 1, with a double shot of comedian Richard Pryor. Both R-rated films, "Here and Now" (1983) and "Live at the Sunset Strip" (1982), document Pryor's comedic genius in these early eighties performances.
The following Friday, April 8th, SMC will present "The Blue Lagoon" (1980) & "Return to the Blue Lagoon" (1991) as part of the Friday Features programming. The movies from Sony Movie Channel are presented in high-definition 1080i without editing or advertising interruptions. (See schedule of double feature programming blocks below.)
Sony also announced they will launch special programming for men on Monday evenings. Dubbed "MANDAYS," SMC will present action and comedy genre films geared towards the male audience starting with "Johnny Mnemonic" and "Sniper" on Monday, April 4.
Other upcoming MANDAY films include "88 Minutes" "Toy Soldiers," "Three Stooges: Have Rocket," "El Mariachi," "The Executioner," and "See no Evil, Hear no Evil."
Sony Movie Channel launched in October, 2010 and can be found on Dish Network Channel 386, DirecTV Channel 563, (1563 VOD), and AT&T U-verse Channel 1791.
Friday Features programming
"Here and Now" & "Live at the Sunset Strip" (Double Feature on Friday, April 1st)

"The Blue Lagoon" & "Return to the Blue Lagoon" (Double Feature on Friday, April 8th)

"Memento" & "Pollock" (Double Feature on Friday, April 15th)

"Big Fish" & "The Counterfeiters" (Double Feature on Friday, May 6th)