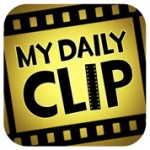 Sony says the streaming video served via "My Daily Clip" is "high quality" — but no technical details were given on resolution — just that the app will automatically adjust to your bandwidth and download speed. Today's clip from "Crouching Tiger, Hidden Dragon" was so dark it was hard to judge quality.
Clips are also organized under categories such as "Critics Got it Right?" and "Hot Chicks in Flicks." So far there are five different categories. There is also the option to purchase the full title via iTunes.
"This app gives the best of both worlds – instant gratification on-the-go with clips, and an easy link to buy the film for viewing on the go, or at home," said Rich Berger, Senior Vice President, Worldwide Digital Strategy and Operations at Sony Pictures Home Entertainment.
You can find the "My Daily Clip" app on your Apple device or at the Apple Store within iTunes.