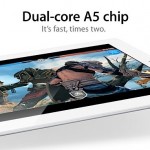 AT&T has announced it will sell the Apple iPad 2 in retail stores starting tomorrow, March 11 at 5 p.m. local time. The iPad will also start selling online earlier at 1 a.m. Pacific Time. AT&T is offering a month-to-month option (no long term commitment). And, customers who activate a new $25/2 GB per month plan will get the first month free.
Customers can choose to either be billed by monthly statement or by credit card.
The Personal Hotspot option introduced with iOS 4.3 is also available for AT&T customers who choose the $25 plan plus a $20 tethering option that provides an extra 2 GB of data.
For more Apple and iPad news view our Apple category.