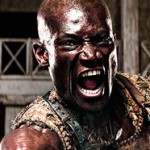 The Netflix interface used to have an "HD" indicator when you roll over the title of the film. Now, if HD is available, you can find it at the bottom of the movie description under "Format." The previous interface feature made it much easier to find hi-def streams rather than have to click on each individual title.
Streaming titles in HD are also harder to find now. You really have to dig deep to find high-definition streams and if you're a stickler for quality you may spend more time searching than watching. And, while the most popular movie titles in Netflix's library come from Starz Play (for example "Grown Ups") they have never been available in HD.
Many titles are just not given justice in standard-def. "Spartacus: Gods of the Arena," "Lord of the Rings: Fellowship of the Ring," "District 9," — these are titles that were made to be watched in HD and it really is a shame we're not given the option.
And, some titles that were once offered in HD are now not available in HD. For example, "The Girl with the Dragon Tattoo" was at one time available in HD — and it looked great. Now, the title will only stream in standard-def which looks fine on a laptop but horrid on a large HDTV.
Bandwidth, bandwidth, bandwidth. It's understandable that Netflix and broadcasters in general still only have a small percentage of HD content. Most service providers such as DirecTV, Comcast and Time Warner Cable have all seemed to have maxed-out on HD content (the average number still being around 150 HD channels). In a time when Blu-ray and HDTV are finally becoming more commonplace we seem to be going backwards when it comes to online delivery.
How do you even know if you are watching HD or SD streams? While viewing a Netflix title you can usually find an "Info" or "Select" button on your remote control that will bring up a small information overlay. (On a PS3 controller it will be the "Select" button.) The overlay gives you information such as Timecode, Video Format, and Audio Format.
The easiest way to find HD titles (since Netflix's search doesn't do it) is to use an external tool such as the advanced search on InstantWatcher to filter out non-HD titles.