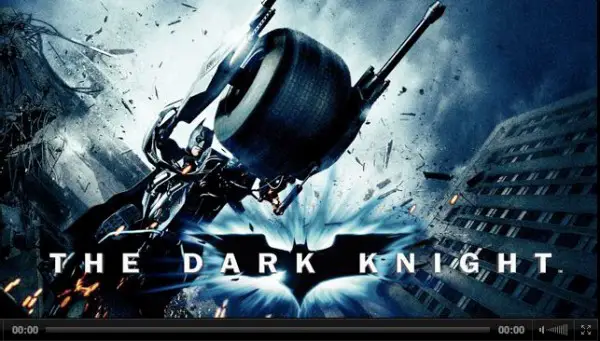 Warner Bros. has started offering streaming movies via their Facebook movie page for "The Dark Knight" — the first studio to launch such a product within the Facebook website. Could Facebook pages compete with Netflix and other streaming services if additional film studios follow in Warner's footsteps? Not by offering just one title. But the idea is a great one considering people are on Facebook all day anyway — why not keep them logged-in even longer?
You can find the streaming option by clicking the "Watch" link on the left side of "The Dark Knight" Facebook movie page. Once given permission to run, the Facebook app will access your profile information (as most of Facebook apps do) and take you to a streaming page with link to "Pay with Facebook."
Movies can be rented by using Facebook credits (30 credits or $3). Once the credits are applied you can watch the movie as many times as you like within 48 hours. As of now, only Facebook members in the U.S. can use the service. Warner says a purchase option will also be available in the near future.
"[The service] gives consumers a simple, convenient way to access and enjoy our films through the world's largest social network, said Thomas Gewecke, President of Warner Bros. Digital Distribution.
The streaming app also allows you to interact with other Facebook members while watching — post your status, make a comment, things you may have done with Blu-ray's BD-Live.