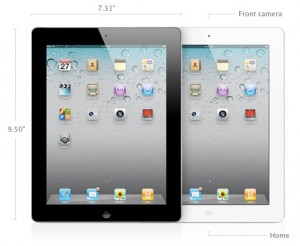 Apple revealed the new iPad today at the iPad 2 event in San Francisco. The new design features a dual-core A5 chip, two cameras for FaceTime video chatting, a "smart cover" to protect the glass, and best of all — HDMI output at 1080p. And, while the front camera stays the same at VGA resolution, the rear camera will record in 720p at 30fps.
Apple says the new iPad is twice as fast with graphics performance up to nine times better than the first iPad. Things that haven't changed are the resolution (still 1024 x 768) and battery performance (up to 10 approximated hours). Storage capacities range from 16GB up to 64GB.
A last minute iPad 2 mockup from China (via AppleInsider) showed the 2nd gen model with a larger speaker and two cameras for use with FaceTime — both of those predictions are proved to be true. The iPad 2 (Wi-Fi + 3G models) also come with a SIM card slot.
Apple's iPad, released in April 2010, opened a completely new market for the "tablet" model mobile PC. By the second quarter, Apple enjoyed a 95 percent share of the market (selling approximately 15 million units). But at CES 2011, several companies announced their own tablet models including Samsung, Panasonic, and Toshiba who also displayed a Windows 7 tablet (not yet released).
The iPad 2 will hit stores on March 11 and start at $499 for the 16GB base model.