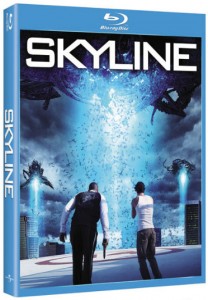 Universal Studios Home Entertainment has announced it will release 2010's "Skyline" on Blu-ray Disc, DVD and as a digital download. Extras on the Blu-ray Disc will include deleted scenes and alternative scenes, commentaries, and animation pre-visualization. "Skyline" BD features will include BD-Live, pocket BLU, a video timeline, and uHEAR.
"Skyline" on Blu-ray is formatted in 2.40:1 widescreen aspect ratio at 1080p with Digital Dolby 5.1. Total run time of the film is 1 hour 34 minutes. The film is rated PG-13 for sequences of intense Sci-Fi action and violence, some language, and brief sexual content.
Synopsis: It was supposed to be a simple birthday weekend in Southern California. But when sunrise arrives two hours early in the form of a haunting light from an unknown source, a group of friends watch in terror as people across the city are drawn outside and swept into massive alien ships that have blotted out the Los Angeles skyline. From tankers to drones and hydra-like extraterrestrials, the aliens are inescapable and seemingly indestructible. From the masterful directors, The Brothers Strause Skyline will keep you guessing in this action-packed sci-fi adventure.
"Skyline" stars Eric Balfour ("Haven," "24"), Donald Faison ("Scrubs," Clueless), David Zayas ("Dexter"), Brittany Daniel (Little Man, "It's Always Sunny in Philadelphia") and Scottie Thompson ("Trauma," Star Trek). The film was directed and co-produced by The Brothers Strause.