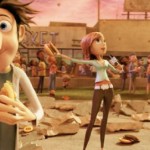 Sony Corporation, Discovery Communications and IMAX Corporation may have decided on shortening the name of their upcoming 3D network from 3DNET to 3NET. The news comes via a Multichannel article that cites a trademark application filed on Dec. 22, 2010 for the name "3NET."
The joint venture had been using the name 3DNET for about a year, as well as operating as 3D Net Co LLC. Why shorten the name though? 3DNET sounds much more like a 3D network than 3NET which could be a communications or internet company. However, nothing has been made official yet as the three companies will most likely announce the official name at CES 2011.
3DNET, or 3NET, will be a 24/7 3D television network which will feature what the venture has called "the most extensive library of 3D content in the world" queuing up 3D titles such as Cloudy With a Chance of Meatballs, Into the Deep 3D, and the recently added Open Season.
The yet-to-be-named 3D network is scheduled for launch in early 2011.