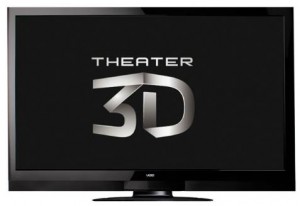 Vizio has officially announced their new line of Theater 3D HDTVs ranging in size from 22 to 71 inches. The 3D theater brand is available in several lines including the "essential" (or most economical) E series, the more stylized M series, and the high performance XVT series.
All in all there are 21 Theater 3D models currently listed. All of the product lines support Vizio Internet Apps, SRS Studio Sound HD, and Smart Dimming (with the exception of the E series). Most models support QWERTY remote via Bluetooth (or in some models via infrared), and two of the XVT models support Bluetooth with Touchpad.
Vizio says their Theater 3D eyewear is battery-free, works with most other 3D home movie theaters, and can be used to view 3D movies in most movie theaters. The technology uses a circular polarized 3D filter which allows all the 3D processing to be done within the 3D HDTV.
Vizio also says their Theater 3D technology is 2x brighter than active 3D systems.
Theater 3D supports several 3D formats including Frame Packing, Side-by-Side, Top and Bottom, SENSIO® HiFi 3D and the RealD Format. Refresh rates range from 60Hz to 480Hz (on certain XVT models).
"Theater 3D is a significant move forward from the conventional Active Shutter TVs introduced last year," said Matthew McRae, Vizio Chief Technology Officer.
Vizio hasn't announced pricing on the models yet. But McRae says that "by making this next generation 3D affordable VIZIO aims to fulfill our brand promise of Entertainment Freedom for All."
Source: Vizio (Click on spreadsheet graphic for larger view.)