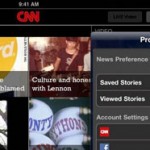 CNN announced today they have launched their breaking news app for the iPad, bringing news headlines, photos and videos to the Apple device free-of-charge. At the same time the company announced the app will no longer require a subscription fee from iPhone and iTouch users — a move that will surely have a viral effect (heck I'm downloading the app as I write this).
CNN app users can switch between U.S. and international news headlines. When set to U.S. news, users can also listen to hourly updates from CNN Radio. Another enhancement CNN made to their international version is the additional of breaking video news.
Three types of views are available for app users. The first is broadsheet, offering up to 350 stories in a grid format. The second is List View, offering headlines by topic and category. The third viewing option is Slide Show, allowing you to scroll or swipe though content.
From CNN:
"High quality, world-class journalism is what CNN does best, whether live breaking news, hard-hitting interviews or in-depth investigations, and our iPad app presents that content to the world in a wholly new way," said KC Estenson, senior vice president and general manager of CNN.com.
"This app harnesses the best of what the iPad offers by leveraging striking photos and videos; elegant, multi-touch navigation; and the ability to share content with your friends via social media," Estenson added.