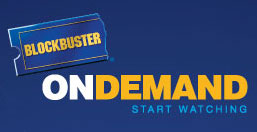 Blockbuster says they have reached a milestone of 100 devices that support Blockbuster On Demand rentals. Newly added devices include the new Samsung Galaxy Tab with 32GB of expandable storage and the Samsung Continuum Android-powered smartphone. Additional Samsung products supporting Blockbuster On Demand include Blu-ray Disc players, TVs and home theater systems.
Blockbuster On Demand access is also being added to other electronic brands this month including Western Digital, Funai, Memorex, OPPO, and Toshiba. (See specific models below.)
"By providing access to the newest movies across the widest range of electronic devices, we are helping customers get the movies they want any time, any place, and any way they want it," said Bruce Anderson, Blockbuster On Demand senior vice president and general manager.
The following Samsung devices now have access to Blockbuster On Demand services:
Samsung Blu-ray Players: BD-C8000, BD-C5900, BD-C6800, BD-C7900
Samsung Home Theater (HT) Systems: C-5930W, C-6900W, C-6600, C-9950W
Samsung mobile devices: Samsung Fascinate, Samsung Continuum, Samsung Galaxy Tab
Other brands supporting Blockbuster On Demand starting this month:
Western Digital's WD TV Live Plus media player
Funai's PB750FX1 portable Blu-ray disc player
Memorex's MVBD2535 Blu-ray
OPPO Blu-ray BDP-93 Blu-ray disc player
Toshiba's BDX3000 3D Wi-Fi Blu-ray player
Western Digital's TV Live Plus Networked HD media players (already on the market)
More info on supported products can be found at www.blockbuster.com/devices.