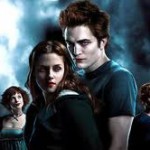 DirecTV will offer a Midnight Premiere of The Twilight Saga: Eclipse in 1080p HD for $5.99 on December 4, 2010. The DirecTV on-demand offering also includes an exclusive behind-the-scenes look at the Cullen family and character preparation (titled "Preparing for Eclipse") which is not available through cable providers.
"The extra bonus footage of their favorite vampire family, which can't be found through any cable provider in the country, only heightens the experience," said Sarah Lyons, vice president, Upgrade Marketing.
DirecTV channels DIRECTV CINEMA and DIRECTV CINEMAplus will both premiere The Twilight Saga: Eclipse on Saturday, Dec. 4 at midnight. The Twilight Saga: Eclipse will also be available to purchase in standard-definition (SD) for $4.99.