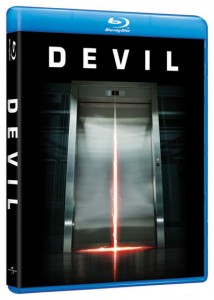 Producer M. Night Shyamalan's psycho chiller "Devil" will release on Blu-ray Disc and DVD, as well as digital download on Dec. 21, 2010. Extras on both formats from Universal Studios will include featurettes "The Story," "Devil's Metting," and "The Night Chronicles" as well as deleted scenes.
The Blu-ray release will come on a single BD-50 with 1080p video presented at 2.40:1 aspect ratio and DTS-HD Master Audio 5.1. Blu-ray exclusives include BD-Live, pocket BLU, My Scenes and uHear. Total run time is 1 Hour 21 Minutes.
In "Devil" five people trapped inside an elevator in Philadelphia find out one of them is the Devil. The film was directed by John Erick Dowdle (Quarantine) and written by M. Night Shyamalan (Signs, The Sixth Sense) and Brian Nelson (Hard Candy).
"Devil" stars Chris Messina (Julie & Julia), Bojana Novakovic (Drag Me To Hell), Bokeem Woodbine (The Last Sentinel), Jacob Vargas (Death Race), Jenny O'Hara (Mystic River), Geoffrey Arend (500 Days Of Summer) and Logan Marshall-Green (Brooklyn's Finest).
Update: Devil is now available for pre-order
on Blu-ray Disc (Release Date 12/21/10).