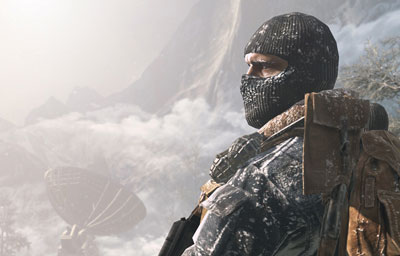 [NOTE: For Call of Duty: Black Ops 2 Nov. 13, 2011 Midnight Release info – view this article.]
The Nov. 9 release of Call of Duty: Black Ops has got retailers preparing for a midnight release tonight of what should be the biggest multi-platform game release of the year. Best Buy, Gamestop, Walmart, Toys R Us are among the nationwide stores taking part in the midnight release.
GameStop will be hosting midnight releases at 4,408 of its stores where you can enter the "going camo" face painting and Call of Duty trivia contests, and also get 250 PowerUp Rewards bonus points when purchasing within 48 hours of the launch. The game will be viewable at 9:30 PM. Find a Best Buy location here.
Best Buy will also be open in more locations than last year's Call of Duty release (over 400 this year) and will be offering sales support and deals for customers interested in 3D gameplay. You can find a participating Best Buy using this link.
At Walmart 24 hour locations we hear that you can apparently get there at 9:30 pm to play the game (if lines permit) and you'll can also get a special Black Ops Bandana as part of the release. Find a participating Walmart store here.
Call of Duty: Black Ops from Activision will sell in three different editions for PlayStation 3 and Xbox 360 that include the Standard Edition for $59.99, the Hardened Edition for $79.99, and the Prestige Edition for $149.99.
'Black Ops' will also be available for Windows PC, Nintendo Wii, and Nintendo DS, however, only in the Standard Edition.
Don't want to wait in line at midnight? pre-order Call of Duty: Black Ops in Standard Edition, Hardened Edition, or Prestige Edition and get 200 Pre-order Bonus Points!
UPDATE: Amazon is currently out-of-stock for the Hardened Edition, but the Standard Edition and Prestige Edition are still available.
UPDATE: All versions of Call of Duty: Black Ops now available for purchase in-store and online. Order Now.