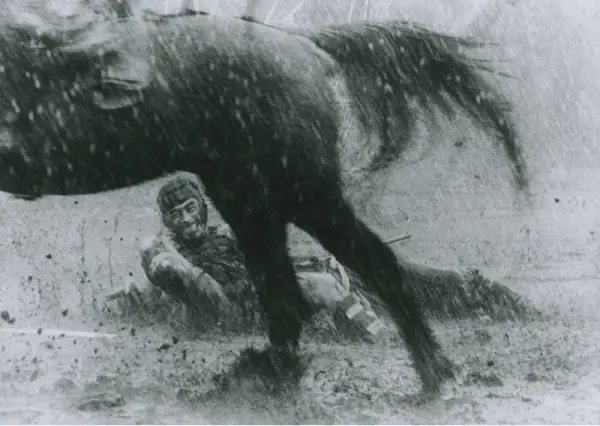 There's certainly no shortage of good Blu-ray releases this week. Start with Seven Samurai (1954) from The Criterion Collection which includes a fifty-minute documentary on the making of the film, a two hour conversation between directors Nagisa Oshima and Akira Kurosawa, essay booklet, and additional extras. The hi-def transfer includes the original uncompressed monaural soundtrack and optional DTS-HD Master Audio soundtrack.
Psycho celebrates 50 years with the release of Psycho (50th Anniversary Edition) on hi-def Blu-ray Disc. The film stars Anthony Perkins, Vera Miles, John Gavin, and Janet Leigh in one of Alfred Hitchcock's most memorable films. The single BD-50 is formatted at 1080p resolution with DTS-HD Master Audio 5.1. Extras include the "Making of Psycho," behind-the-scenes photographs, and other production featurettes.
Apocalypse Now (Three-Disc Full Disclosure Edition) contains three separate films: Apocalypse Now (1979); Apocalypse Now Redux (2001); and Hearts of Darkness (a 1991 making-of documentary). For the first time the film is set to disc in its original 2.35:1 aspect ratio. See full description of this disc set.
Predators (2010) stars Adrien Brody and Laurence Fishburne in this summer release that has a predicable plot, didn't do particularly well in theaters, but as an action/sci-fi film is a lot of fun to watch. The single Blu-ray Disc is formatted in 2.39:1 aspect ratio with DTS-HD Master Audio 5.1. Extras include commentaries with Robert Rodriguez and Nimród Antal, featurettes, deleted and extended scenes. Predators also comes with a digital copy on a separate DVD!
Here are our Blu-ray pics this week.
Seven Samurai (The Criterion Collection)
Apocalypse Now (Three-Disc Full Disclosure Edition)
Predators
The Rocky Horror Picture Show (35th Anniversary Edition)
Psycho (50th Anniversary Edition)
Moulin Rouge! (2001)
Harry Potter and the Prisoner of Azkaban (Ultimate Edition)
Harry Potter and the Goblet of Fire (Ultimate Edition)
Romeo + Juliet
Disneynature: Oceans
Night of the Demons
Predator Collection
Here the full list of new Blu-ray Disc releases
for Oct. 19, 2010.
[HTML1]