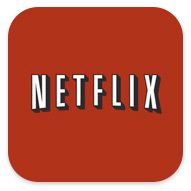 Check your "What's New" section of the PlayStation Store to find a free app to run Netflix on your PS3. The app is only available for PS3 systems in the US and Canada. Just like the streaming disc, it will allow you to watch as many movies and TV shows as you want streaming over the internet.
Netflix has an increasing percentage of streaming titles in HD quality. Some titles now have Dolby Digital Plus in 5.1 audio channels. And, Netflix also said they have added some titles in 1080i (although we've yet to find one).
Once installed the app can be found under the film strip "Video" icon at the top level of your PlayStation 3. The interface is quite a bit larger than the streaming disc. There are less movie thumbnails displayed and so you will have to click "See All" more often. Of course you can also manage your queues for both DVDs-by-mail and instant play.
Also interesting to note that Starz movies have been integrated into the categories. Unfortunately the SD quality of the Starz titles is horrible, and you won't know it's Starz content until you start it.
To find out the resolution of the video and format of audio touch the "Select" button your PS3 controller once the movie starts. Format information will display in the upper left corner of your TV screen.
The Netflix app currently has a rating of 4 out of 5 stars from customer reviews.