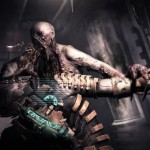 Electronic Arts will offer Dead Space Ignition as a free download to gamers who pre-order Dead Space 2. The prologue to the upcoming full release, 'Ignition' offers three hacking games titled Hardware Crack, Trace Route and System Override. 'Ignition' will also give players unlocks including an exclusive Hacker suit that engineer Isaac Clarke can use in Dead Space 2.

Dead Space Ignition features a unique "Choose Your Own Adventure" type narrative, allowing players to survive the initial Necromorph outbreak on the Sprawl in multiple ways, with four different endings. 'Ignition' was written by Wasteland and Daredevil author Antony Johnston.
Dead Space Ignition will launch this coming Wednesday, October 13. You can pre-order
Dead Space 2 and get the 'Ignition' prologue as a free download.
[HTML1]The Dead Space Ignition download will also be offered for $5 from PlayStation Network and 400 MS points from the Xbox LIVE marketplace a day earlier on Oct. 12.
Dead Space 2 will release on Jan. 25, 2011 for Xbox 360, PlayStation 3, and Windows PCs.