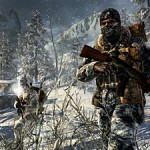 Call of Duty: Black Ops will be playable in stereoscopic 3D, that according to an official release from Activision Publishing today. The 3D experience for Black Ops utilizes active shutter technology to deliver a more immersive experience, which will be easily turned on or off through the menu whether in the single player, multiplayer or zombie modes.
"Development of stereoscopic 3D began as an R&D project, but once we saw what the technology brought to the Call of Duty experience, we knew that we had to develop it for Black Ops," said Mark Lamia, Studio Head of Treyarch.
This is huge news for the 3D gaming industry, as well as for Microsoft who have been relatively quiet on the 3D front since Batman: Arkham Asylum.
Black Ops releases worldwide on Nov. 9 for Xbox 360, Playstation 3, and Windows PCs. PCs will need to be NVIDIA 3D Vision-Ready and support stereoscopic 3D gaming using 3D Vision active-shutter glasses and NVIDIA GeForce GPUs.
Thinking about buying a 3D TV? Check out Amazon's
full selection
of 3D TVs from Samsung, Panasonic, and Sony.