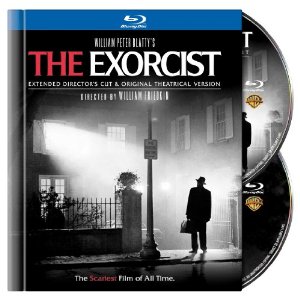 It's October and you're going to find some new Blu-ray releases in the scary/horror genre of filmmaking such as The Exorcist Director's Cut, Nightmare on Elm Street and The Blair Witch Project. Amazon also has The Omen Collection as a specially priced boxed set this week.
[HTML1]In the action genre there is Grindhouse (Special Edition), Mad Max (Two-Disc Blu-ray/DVD Combo) and The Last of the Mohicans: Director's Definitive Cut now all on Blu-ray Disc.
For television Bones: The Complete Fifth Season containing all 22 episodes is available on Blu-ray as well as the Ken Burns documentary Baseball: The Tenth Inning now also available on Blu-ray Disc.
For the kids Beauty and the Beast has been released as a Three-Disc Diamond Edition Blu-ray/DVD Combo, The Karate Kid has been released as a Two-Disc Blu-ray/DVD Combo with digital copy, and classic Peanuts episodes are now available together in the Peanuts Holiday Collection on Blu-ray Disc.
Finally, for classics we have Humphrey Bogart starring in both The Maltese Falcon (1941) and The Treasure of the Sierra Madre (1948) both presented in 1.37:1 aspect ratio with DTS-HD High Res Audio and plenty of extras.
Overall a good week for Blu-ray with lots of variety in genres. Take a look at some selected titles below or view the full list of Blu-ray releases
for Oct. 5, 2010.
The Last of the Mohicans: Director's Definitive Cut
The Exorcist (Extended Director's Cut & Original Theatrical Edition)
Beauty and the Beast (Three-Disc Diamond Edition Blu-ray/DVD Combo)
Bones: The Complete Fifth Season
Grindhouse (Special Edition)
The Karate Kid (Two-Disc Blu-ray/DVD Combo + Digital Copy)
Mad Max (Two-Disc Blu-ray/DVD Combo)
A Nightmare on Elm Street
The Maltese Falcon
The Treasure of the Sierra Madre
Baseball: The Tenth Inning
Splice (Blu-ray/DVD Combo + Digital Copy)
Peanuts Holiday Collection (A Charlie Brown Christmas / It's the Great Pumpkin, Charlie Brown / A Charlie Brown Thanksgiving)