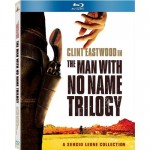 Amazon's "Blu-ray Boxed Deal of the Week" is The Man with No Name Trilogy, starring Clint Eastwood in A Fistful of Dollars (Disc 1), For a Few Dollars More (Disc 2), and The Good, The Bad, and The Ugly (Disc 3). The Blu-ray Discs are presented in 1080p at 2.35:1 widescreen aspect ratio with DTS-HD Master Audio 5.1. The box set will ship Sept. 2 and is now available to pre-order for only $27.99 (List: $69.98). The sale runs through Sept. 4.
A Fistfull Of Dollars
Clint Eastwood's legendary "Man With No Name" makes his powerful debut in this thrilling, action-packed classic in which he manipulates two rival bands of smugglers and sets in motion a plan to destroy both in a series of brilliantly orchestrated setups, showdowns and deadly confrontations.
For A Few Dollars More
Oscar Winner Clint Eastwood continues his trademark role in this second installment of the trilogy, this time squaring off with Indio, the territory's most treacherous bandit. But his ruthless rival, Colonel Mortimer (Lee Van Cleef, High Noon), is determined to bring Indio in first…dead or alive!
The Good, The Bad And The Ugly
The invincible "Man With No Name" (Eastwood) aligns himself with two gunslingers (Lee Van Cleef and Eli Wallach) to pursue a fortune in stolen gold. But teamwork doesn't come naturally to such strong-willed outlaws, and they soon discover that their greatest challenge may be to stay focused – and stay alive – in a country ravaged by war.