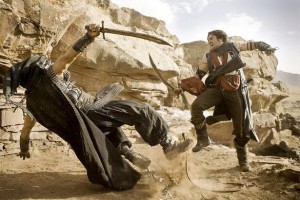 It seems strange that filmmakers would not have much extra footage these days, when scenes can be shot digitally and the price of film is not a factor. But that is what Prince of Persia: The Sands of Time director Mike Newell is saying about the possibility of extra footage on the upcoming Blu-ray Disc and DVD releases.
Via Home Media Magazine, Newell says he added layers upon layers into the theatrical release the film, rather than cutting footage out, because that is how a Jerry Bruckheimer film (the film's producer) would be made.
However, Newell responded to the lack of deleted and extra footage saying, "we always add things that are fun and interesting for you guys to look at."
Bruckheimer has had a recent run of film "duds" including a weak theatrical opening for "The Sorcerer's Apprentice" and other recent films "G-Force" and "Confessions of a Shopaholic." But even though an LA Times blog says "the knives are out for the veteran producer," "Prince of Persia" has made $325.7 million worldwide ($90M U.S.) on a $200M budget.
Does a lack of deleted scenes and extra footage influence whether you would buy a disc release or not?