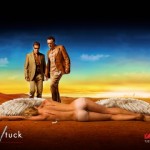 Netflix and Warner Bros. have expanded and extended their current streaming content agreement, adding more TV shows to the Netflix library as well as extending movie title licensing from the studio through 2011.
Included among the Warner TV shows now available to stream are all 100 episodes of "Nip/Tuck" which will be available in Netflix's lineup for at least the next four years.
"Veronica Mars," "Pushing Daisies" and "Terminator: The Sarah Connor Chronicles," are also included in the content agreement.
"Our Netflix streaming relationship is a good example of the opportunities the digital space provides to make content available in new ways at appropriate points in the product lifecycle," said Thomas Gewecke, president, Warner Bros. Digital Distribution.
Netflix and Warner Bros. Home Entertainment signed an agreement earlier this year which set a 28-day window for new Blu-ray Disc and DVD releases during which time Netflix cannot distribute.
Netflix recently signed an agreement with Relativity Media to stream titles during the pay-TV window, including upcoming titles such as "The Fighter" and "Season of the Witch."
Try Netflix for free. Get unlimited Blu-ray Discs for only $2 extra per month! Click here.