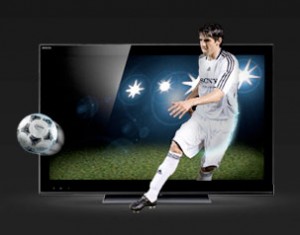 SonyStyle is running a promotion where you can buy a select Sony HX800 Series BRAVIA 3D HDTV and get a 3D entertainment package valued at $899. In addition, Sony is offering up to $340 off the regular price of those select BRAVIA 3D HDTVs. There are limited quantities, and the offer is only valid while supplies last. Check out the offer on SonyStyle.com, which runs from July 4 through July 17, 2010.
With a Bravia 3D HDTV purchase, you get a 3D Blu-ray Disc home theater system (BDV-E570), two pairs of 3D active glasses (TDG-BR100), 3D sync transmitter (TMR-BR100), two Blu-ray 3D movies in 3D, and four Stereoscopic 3D games and demos for PlayStation 3.
Sony Bravia TVs eligible for the above offer include the 46″ HX800 and the 55″ HX800. 
Sony's 3D technology uses high speed left and right eye images synchronized to 3D glasses to achieve an effect that keeps you totally immersed. Sony's 3D glasses are perfected to remove ghosting effects (also called crosstalk) between images.