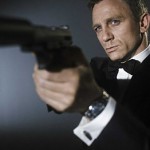 This one's going to hurt. The latest James Bond film has been cancelled due to financial problems. Production on the film (referred to as Bond 23) was postponed back in April 2010 due to Metro-Goldwyn-Mayer's problems funding the £132 film. Now, the film has been officially cancelled according to the UK's Daily Mirror.
"There is a lot of bad feeling as a lot of time, money and hard work has already gone into this," an insider told the The Daily Mirror.
Director Sam Mendes (Revolutionary Road, American Beauty) and writer Peter Morgan (Frost/Nixon) were already involved in the project. The 23rd Bond film would have starred Daniel Craig (Casino Royale, Defiance) for the third time as MI6 agent James Bond. Rachel Weisz and Judi Dench were rumored to be starring along with Craig in the film. Reports from the UK also tagged Slumdog Millionaire actress Frieda Pinto as Bond's new love interest.
Bond 23 was rumored to be set in Afghanistan, although any additional information about the film's plot was kept under lock and key.
The question isn't whether a new Bond film will ever be made again, but rather when. The last two films with Daniel Craig have enjoyed worldwide success, both in theaters and on DVD. The last film, Quantum of Solace, reported income of $169M (US) and $576M (Worldwide). DVD and Blu-ray Disc releases of Quantum of Solace were on the top of the charts with an estimated $44M in sales.*
All is not lost however for Bond fans. A new Bond novel is in the works and is currently referred to as "Project X." The book is being written by American mystery and crime writer Jeffery Deaver (The Bone Collector, Edge). Expected release date is May 28, 2011.
*Box office and DVD sales according to The Numbers.