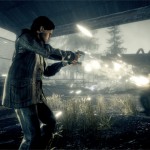 Alan Wake, the Xbox 360 exclusive developed by Remedy that hit stores in May, left many fans hungry for more after completing the game's main story. Now, two episodes of the game's DLC (downloadable content) that further the game's creepy storyline have been announced and detailed.
The first add-on, "The Signal," arrives July 27th as a free download to those who purchased a new, shrinkwrapped copy of the game. It will also be available for 560 MS points, or $7, for those who bought used copies.
The second episode, "The Writer," will also cost 560 MS points ($7), although a release date for that episode was not given.
Although Wake was a well-received game, criticism came regarding the unnatural manner of the character's facial animations. Remedy has acknowledged the complaints, even going so far as to say that the DLC episodes would feature improved animation thanks to new modeling technology.
You can purchase Alan Wake, with the first DLC episode free, at Amazon here.