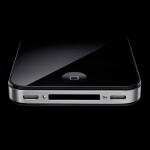 Steve Jobs was in San Francisco today presenting the 4th-gen iPhone at Apple's World Wide Developers Conference. One highlight of the new iPhone is that Netflix will finally be supported — even over AT&T phone networks. And, iPhone 4 will record HD video at 720p and 30 frames-per-second.
The camera on the back of the new iPhone uses a bigger 5 megapixel chip with 5x digital zoom and built-in LED flash. iMovie can be used on the iPhone ($4.99) to edit video, add transitions, music and photos. There is also a camera on the front of the iPhone for what Apple calls "FaceTime" – allowing seamless switching between voice and video chatting. Whether or AT&T's network can push the bandwidth required is up for grabs.
Resolution on the new iPhone is 960 x 640 using a technology called "Retina" display" with pixel density at 326 ppi. This is 4x the resolution of earlier iPhones and according to Apple is a higher resolution than the human eye can see. The "Retina" technology allows smoother text and images at any size.
The new design of the iPhone looks like the leaked iPhone, with a slimmer profile and front-facing camera. There is also a second microphone installed at the bottom for noise cancellation.
Jobs said that 5 billion apps have been downloaded for the iPhone so far, with $1 billion paid to iPhone application developers. Other apps besides Netflix coming to iPhone 4 include Farmville and Guitar Hero.