Lots o' cool stuff gets released on Blu-ray this week.  It's a good week for fans of Mel Brooks and Mr. Miyagi, and Criterion releases one absolutely must-have classic for your HD library… Let's take a look:
WHITE SPACE
WHITE SPACE
WHITE SPACE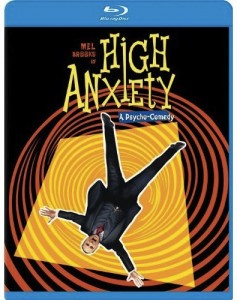 OOOOOOH! 'Xiety!!  One of the silliest of Mel Brooks's films and one of his best (though by no means the masterpiece that is Young Frankenstein), High Anxiety (20th Century Fox, 1977), has been broken out of the Collector's box it had formerly been trapped in.  The Blu-ray treatment lovingly captures Mel Brooks' attempt to out-Hitch Hitchcock while he parodies the works of the suspense master and a few other films from days gone by.  Brooks takes the lead and with his cast of brilliant zanies (particularly Cloris Leachman, Harvey Korman and the incredible Madeline Kahn) re-creates memorable scenes from Hitchcock's best with some slightly uneven comedy that usually hits far more than it misses.  Look out for director Barry Levinson in hysterical cameo that just about slays me every time I see it, and keep an eye on Ron Carey's finest character performance outside of teevee's Barney Miller.  What makes it a great film, but not perfect?  Well, I think it helps to be a student of Hitchcock's films (from his earliest silent days to his final 70's era films), for the gags, which are frequently funny on their own, really hit home if you know the iconic scenes, locations, props, characters, and even tiny details from Hitchcock's oeuvre.  Still, it's a very funny movie even if you barely know what a MacGuffin is.  The Blu-ray looks far better than any previous video release (unless you have the HD-DVD version, which does not offer much difference) and that goes for the other Brooks films being released on Blu-ray: the funny but somewhat mediocre History of the World, Part 1 (20th Century Fox, 1981) and less funny and very hit and miss Brooks affair, Robin Hood: Men in Tights (20th Century Fox, 1993).  Some folks dig Tights (and Spaceballs), but I find latter-era Brooks to be too broad and less timeless (pumping up sneakers is meaningless nowadays… and calling out your jokes right before you perform 'em is simply an offense to comedy), though I admit… I do crack up like the village idiot when I watch History, a film whose Spanish Inquisition segment reveals Brooks's amazing knack for writing Broadway-styled showstoppers long before he actually got to the Great White Way.  Nevertheless, these two films are hardly at the height of the comic peak Brooks once reached with Blazing Saddles and Young Frankenstein.  Buyers should note that these are the same discs found in the Mel Brooks Collection that was released on Blu-ray only six months ago.  These are single disc BDs that include High Anxiety and Robin Hood: Men in Tights presented in widescreen 1.85:1 and History of the World, Part 1 presented in widescreen 2.35:1.  All three titles look quite excellent, though History and Robin Hood:MiT standout from High Anxiety's overall image quality, but consider those two are latter day Brooks films utilizing better filmmaking
technology to capture the performances and action.  All the films are ported over from the collection with MPEG-4 AVC 1080p transfers and offer DTS-HD Master Audio 5.1 mixes that do a more than adequate job of capturing the most essential element of Brooks's films… the dialogue and repartee.  In addition, each disc contains the bonus features from the Mel Brooks Collection set as follows (some features are in SD, those in HD are noted below):
High Anxiety
Hitchcock and Mel: Spoofing the Master of Suspense (HD-1080p)
The "Am I Very Very Nervous?" Test
Don't Get Anxious! The Trivia of Hitchcock
Original Theatrical Trailer (HD-1080p)
Mel Brooks Trailers (HD-1080p)
Isolated Score Track (presented in DTS-HD Master Audio 5.1)                                         
History of the World, Part 1
Musical Mel: Inventing "The Inquisition" (HD-1080p)
Making History: Mel Brooks on Creating the World (HD-1080p)
The Real History of the World Trivia Track
Original Theatrical Trailer (HD-1080p)
Mel Brooks Trailers (HD-1080p)
Isolated Score Track (presented in DTS-HD Master Audio 5.1)
Robin Hood: Men in Tights
LaserDisc Commentary with Mel Brooks
Funny Men in Tights: Three Generations of Comedy (HD-1080i)
Robin Hood: Men in Tights – The Legend Had it Coming
Original Theatrical Trailer (HD-1080p)
Mel Brooks Trailers (HD-1080p)
Isolated Score Track (presented in DTS-HD Master Audio 5.1)
If you've previously bought the Collection, don't bother with the singles, but if you have yet to own the big boxed set, then this is your chance to procure these comedies individually at a more reasonable price.
WHITE SPACE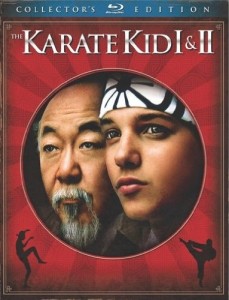 An 80's classic of sorts, The Karate Kid (Columbia/Sony, 1984) manages to tell a fairly standard coming-of-age story wherein a teenage boy learns the ways of manhood by dint of a philosopher-teacher who humorously makes mincemeat of the English language.  The story of Luke and Yoda… er, that is to say, Daniel LaRusso (Ralph Macchio) and Mr. Miyagi (the late Pat Morita, known in the Karate Kid series by his real name Noriyuki Morita) is nearly identical in broad strokes to director John G. Avildsen's film of Sylvester Stallone's Rocky, but with the twist of martial arts added to the mix.  Avildsen does serviceable work with his actors but handles the material without much technical verve… still, his direction of the actors is excellent throughout, and the friction and friendship created between the elder Morita and the young Macchio is the highpoint the first film.  Macchio became noticeable older in the role and the already clichéd plot grew stale over four films (one starring a young Hilary Swank getting life lessons from Mr. Miyagi), but The Karate Kid, Part II (on Blu-ray as The Karate Kid, II) does things a little differently by putting Miyagi at the forefront and making a conflicted return to his Okinawa home the crux of the film's drama.  The original film garnered an Oscar nomination for Pat Morita in a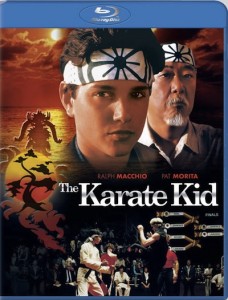 second career defining performance (his first being Arnold on teevee's Happy Days), and took Ralph Macchio to fame while also introducing Elizabeth Shue to audiences.  The first Karate Kid is the kind of movie where you simply cannot help but root for the underdog protagonist, especially as young Daniel-san overcomes a dojo of dickheads run by an arrogant sensi who is confident his Cobra Kai techniques (mainly cheating, fighting dirty, sneering endlessly) will continue to garner them trophies in the All Valley Karate Tournament.  Macchio is quite likable, Shue is just as much, and Morita is very memorable in his goofy yet wise approach to Mr. Kesuke Miyagi (and who of GenY-X age or older hasn't attempted to snatch at a fly in mid-air with chopsticks, or uttered the immortal words, "wax on; wax off," at an appropriate moment to great laughter).  The other two films in the series are a lesser bunch of flicks, but only The Karate Kid, Part II (Columbia/Sony, 1984) is being released this week on Blu-ray along with the original Kid.  It arrives bundled as a boxed set, or individually… though that boxed set is curiously timed for the June 11th release of the new Karate Kid movie with Will Smith's kid,
Jaden.  Taken individually, the Blu-rays are single disc product considered decent transfers as far as 80's films of this nature go.  The 1.85:1 widescreen presentations in 1080p will offer up a very sharp image retaining the look of the era's film stock, while the lossless DTS-HD MA 5.1 sound purports to offer clear dialogue allowing the 80's era soundtrack (featuring Banananrama) to sound less tinny with little dropout compared to previous releases.  Definitely worth a look for 80's kitch collectors as well as fans of well-made family cinema, the discs offer a few choice bonus features.  Both discs have Sony's Blu-Pop trivia pop-ups integrated into the film with Kid I offering a integrated commentary track featuring Ralph Macchio that is separate from the audio commentary with director Avildsen, Robert Kamen (writer), Macchio and Pat Morita.  Kid 1 also contains "The Way of the Karate Kid," a two part documentary from 2004 that is ported over from the last DVD edition and gives insight on the production, "Beyond the Form," an interview with martial arts expert and fight choreographer Pat E. Johnson (also appearing as the ref in the final quarter of the film), "East Meets West: A Composer's Notebook" visits with Bill Conti (famous for the victory trumpet fanfare of Rocky), "Life of the Bonsai" gives a glimpse into the delicate art of tree cultivation in miniature.  Both discs offer trailers and BD-Live selections.
WHITE SPACE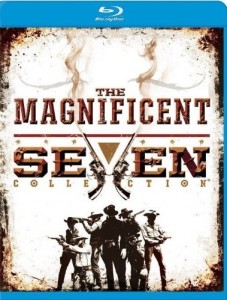 This week sees MGM's Blu-ray release of The Magnificent Seven Collection (UA/MGM, various), which includes the 1960 Western classic's take on Akira Kurosawa's influential "Eastern" about a band of louche gunslingers (in place of Kurosawa's samurai) who protect a village of farmers from despicable bandits amidst Elmer Bernstein's soaring (and very iconic) score.  The cast is nothing short of fantastic (featuring Yul Brynner, Eli Wallach, Steve McQueen, Charles Bronson, Robert Vaughn, and James Coburn) but while the set includes the terrific first film, it also features three diminishing follow-ups, including: SPACE
WHITE S
Return of The Magnificent Seven (1966)
Guns of The Magnificent Seven (1969)
The Magnificent Seven Ride! (1972)
The set also includes the following bonus features: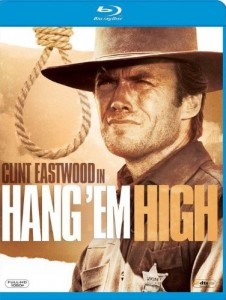 "Guns for Hire – The Making of The Magnificent Seven"
"Elmer Bernstein and The Magnificent Seven"
"The Linen Book: Lost Images from The Magnificent Seven"
Theatrical Trailers
Still Gallery
Audio Commentary Featuring James Coburn, Eli Wallach, producer Walter Mirsch, and A.D. Robert Relyea.
MGM is also releasing Clint Eastwood's first Malpaso production of Hang 'Em High (UA/MGM, 1968) on Blu-ray this week.  This one features Eastwood as Jed Cooper a man on a vengeance kick against the men who tried to lynch him, and Pat Hingle as the hanging judge, Adam Fenton, a man who comes to respect Cooper, but still insists on justice for the men who left him for dead.
WHITE SPACE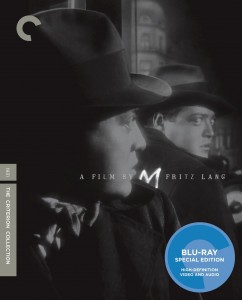 Criterion Collection gives Fritz Lang's morbid and moody masterpiece "M" (Nero-Film AG/Criterion, 1931) to high-def Blu-ray and as usual they give it the kind of treatment armchair-Scorseses admire.  As the last DVD release of "M" by Criterion proved they do take their time making a good transfer, cleaning up dirt and scratches only the absolutely obsessed tend to notice while creating as-close-to-theatrical results as they can.  But let's face it, we all tend to buy Criterion not only for the pristine transfers (and with Blu-ray, they are outdoing themselves with each re-issue), but also for the trove of special features offered— many of them well researched and, at times, truly arcane –the stuff that puts cinema geeks in celluloid heaven.  Among the best reasons to own "M" are Peter Lorre's performance which is a template for evil that still casts a long shadow over cinema, and Lang's expressionistic imagery that shows the twisted turmoil that lurks in the hearts of men.  For a full description of tech specs and features visit Criterion's site (which also features an essay on the film by Stanley Kauffmann).
WHITE SPACE
"Do your parents know you're Ramones?!?"
Also coming to Blu-ray this week are the Ramones and detention! Detention for everyone!!  The cult classic, Rock and Roll High School (New World/Shout! Factory, 1979) part of the Roger Corman's Cult Classics collection, features P.J. Soles as Riff Randell, a rock n' rollin' teen ready to take school spirit to a new level against the wicked Principal, Miss Togar (Mary Woronov in a terrifically kitch performance straight out of the Nurse Ratched School for Bitchery).  With help from the Ramones— arguably the finest punk rock band then or now… with a huge talent for taking basic rock and roll and amping it up to a quick and edgy onetwofree-faw! beat that left listeners in a Carbona induced haze –Riff is prepared to take on the administrators of Vince Lombardi High and get her Ramones tickets back from Togar and her toadies.  The movie is a whole helluva lotta fun, with great, quirky performances from Soles and Woronov along with Paul Bartel, Vince Van Patten— even Ron's bro, Clint Howard, is here as Eaglebauer, wheelin' and dealin' from his bathroom stall office space.  The ubiquitous Dick Miller pops up, too, which gives the movie the Roger Corman seal of approval, while Joe Dante adds mad dashes of in-joke silliness to Allan Arkush's direction (with an additional assist from one of the Zucker brothers of Airplane! fame).  In 1080p this should look better than standard-def though still limited by a source that's over 30 years old and looks it (the film was financed by selling Corman's shoestrings), moreover you'll get to experience some great Ramones tunes but, alas alack, only in unexciting Dolby 2.0 (again, this limitation is due to the source, but still…  no HD sound? Feh!).  Though it suits the film's age perhaps and the grit of the Ramones' sound, this is still rather strange for a Blu-ray release.  However, there is a huge array of features, though many are ported over from prior releases in standard-def.  Included are enough features to make any mouse explode:
Special Introduction And "Thank You" From Director Allan Arkush
Audio Commentary With Director Allan Arkush, Producer Mike Finnell And Screenwriter Richard Whitley
Audio Commentary With Roger Corman And Dey Young
New Audio Commentary With Director Allan Arkush, P.J. Soles And Clint Howard
Back To School: A Retrospective Including All-New Interviews With Allan Arkush, Roger Corman, Joe Dante, Dey Young, Marky Ramone And More . . .
Staying After Class: A Roundtable Interview With P.J. Soles, Vincent Van Patten And Dey Young
Interview With Roger Corman Conducted By Leonard Maltin
New Interview With Director Allan Arkush Including A Look At Rare, Behind-The-Scenes Stills From His Personal Collection
Audio Outtakes From The Roxy – Audio Recording Of The Ramones Shooting
The Final Scene
Original Radio Ads And TV Spots
Original Theatrical Trailer
Original Theatrical Trailer With Commentary By writer/director/actor Eli Roth Courtesy Of Trailers from Hell.
Additional Roger Corman Trailers
WHITE SPACE
And here are the rest of the Blu-ray releases for May 11, 2010:
•      Daybreakers (Lionsgate)
•      The Edge (20th Century Fox)
•      Edge of Darkness (Warner Brothers)
•      Legend of the Tsunami Warrior (Magnolia)
•      Legion (Sony)
•      The Man in the Iron Mask (MGM/UA)
•      Marked for Death (20th Century Fox)
•      Samurai Princess (Well Go USA)
•      Tidal Wave (Magnolia)
WHITE SPACE
Get pricing on all new Blu-ray releases
for May 11, 2010.
WHITE SPACE