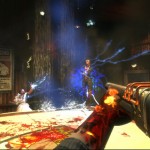 Today marks the arrival of the second round of DLC (downloadable content) for publisher 2K's BioShock 2. Dubbed "The Rapture Metro Pack," the content is available for both the Xbox 360 and PlayStation 3 versions of the game for $9.99 on the PlayStation Network and 800 MS Points on Xbox Live. It will be available soon for the PC.
The Rapture Metro Pack adds six new multiplayer maps to the game, two new character masks, as well as new achievements. There is also the new "Rebirth" tonic, which gives players a special reward for bringing their character's level back to zero.
In addition, a free multiplayer mode called "Kill 'Em Kindly" in which players are armed only with golf clubs is also available for download. Finally, a "Character Pack" that adds two multiplayer models previously exclusive to pre-orderers will be released simultaneously for $1.99 (160 MS Points).
BioShock 2 was originally released in February. Its first DLC pack, "Sinclair Solutions Test Pack," was released in March.