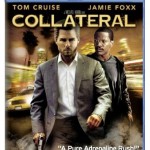 On Tuesday we saw the release of about 22 new Blu-ray titles but with the exception of a few not many are keepers. Collateral (2004) is a Michael Mann film starring Tom Cruise, Jamie Foxx and Jada Pinkett Smith. Cruise (for once) plays a bad guy who arrives in Los Angeles to take out five witnesses essential to a drug trafficking prosecution. A stylish film that is shot mainly in digital, Collateral has lots of detail in every frame that makes it a great hi-def disc to watch several times over. Presented in 1080p at 2.35:1 aspect ratio with DTS-HD Master Audio 5.1.
IMAX: Under the Sea (2010) is a beautifully filmed exploration of ocean life from the creators of Deep Sea and Into the Deep. The film is narrated by Jim Carrey and directed by Harry Hall, and is still shown in IMAX theaters worldwide. 'Under the Sea' takes you to locations in Papua New Guinea, Indonesia, and the Great Barrier Reef. The disc is formatted in 1080p with a 1.85:1 aspect ratio and DTS-HD Master Audio 5.1 for audio.
If you've got kids Alvin and the Chipmunks: The Squeakquel (2009) is the perfect 2-hour babysitter (if you include all the previews). The film was just recently in the theaters and did a couple hundred million at the US box office. The great thing about this Blu-ray release is it also comes with a DVD and digital copy which we're starting to refer to as "family combos" — one disc for the portable DVD player or laptop, a digital copy for the iPod, and the hi-def version for those kids who insist on 1080p and 5-channel audio (adults may even want to check out the quality).
A few other titles to mention might be Sherlock Holmes, National Geographic: Big Sur-Wild California, The Killer, and The Baader Meinhof Complex. Here's a link to Amazon pricing
on all new Blu-ray releases this week.