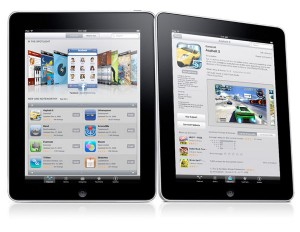 Loaded eBook reader? Handheld HDTV? Apple's iPad will release on Saturday, April 3 and already the apps are rolling in including the now confirmed Netflix iPad application. Some apps are already available on iTunes, but a few screenshots of the Netflix app leaked yesterday were confirmed via press release today. The Netflix application will stream unlimited video, a percentage of it in HD, with subscription plans starting at $8.99 per month.
This kind of makes you wonder though what Apple is thinking given they also rent (and sell) movies and TV shows through iTunes — and have been for some time now. Why would they allow Netflix subscribers to get it all for free? Regardless, Apple does maintain an edge on new movie titles as Netflix streaming still has to abide by the one-month rule, while Apple gets them on iTunes the same day as DVD.
Other movie viewing apps are apparently in the works for the iPad. The New York Times mentioned development of an iPad app in an article earlier this week. As well, CBS and ABC are also planning applications to allow TV content to be shown free of charge on the iPad, according to The Wall Street Journal.
The iPad has a 9.7-inch (diagnol) LED multi-touch display, which rotates content according to how you hold it. Since the iPad's resolution is 1024×768 (132 ppi), HD content from Netflix and other apps might have to be scaled a bit to fit into the display's native resolution.
Early reviews of Apple's iPad are getting big scores from early reviewers. The gearheads at USA Today and the Wall Street Journal gave the iPad 4 out of 5 stars. And, the New York Times gave it 3.5 stars.
Will the fluctuating economy hurt iPad sales? Apparently not. One source says Apple will sell 200,000 iPads in its opening weekend alone.
The iPad will be available in 16GB, 32GB, or 64GB flash drive models. Its processor is a 1GHz Apple A4 custom low-power system-on-a-chip.
UPDATE: ABC has confirmed an application for iPad.