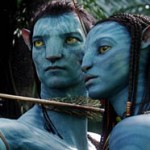 If you felt cheated during the sex scene in Avatar between two Na'vi (one real and one an avatar), you may have your chance to see the deleted scene when Avatar is released on DVD and Blu-ray Disc.
Director James Cameron says he cut the scene in order to maintain a PG-13 rating, but that it will be included as an extra when the film is released for home viewing sometime this year.
The scene will feature Jake Sully (Sam Worthington) and Net'tiri (Zoe Saldana) as they apparently sync to each other through their ponytailed hair. (The theatrical version just shows them getting intimate.)
"If you sync to your banshee and you're syncing to a tree, why not sync into a person?" said actress Zoe Saldana, who stars as Jake Sully's love interest Neytiri.