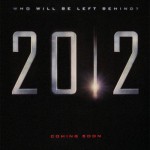 Wait, isn't this film still in theaters? According to High-Def Digest via a Sony announcement, 2012 will be released on DVD and Blu-ray Disc on March 9. Extras on the disc will include seven featurettes, deleted scenes, an interactive Mayan calendar and digital copy.
2012 stars John Cusack, Amanda Peet, Chiwetel Ejiofor, Thandie Newton, Danny Glover, and Woody Harrelson in the Nov. 2009 film which did $161 million U.S. and $745 million worldwide (according to TheNumbers.com). Well, how could it not given the marketing?
Blu-ray specs have not been released yet, however the MSRP for 2012 on Blu-ray was set at $39.95.