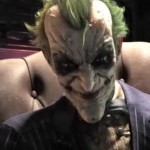 The overwhelming assumption about Batman: Arkham Asylum before release was that a Batman game couldn't provide a worthwhile gaming experience. So I wasn't the only one shocked when the game garnered critical acclaim and positive reviews. The game's developer, Rocksteady, is hoping to surprise us again with the recently announced sequel to Batman: Arkham Asylum.
There isn't much information about the newly announced sequel. The teaser site states that "Arkham has moved," which could mean that the Joker is off terrorizing some new landscape or that Batman is assisting in the large public-works project of constructing a new hospital.
The teaser video on the site shows streets filled with destruction and chaos before focusing on a sickly looking Joker hooked up to an IV bag filled with reddish liquid. Going by the Joker's appearance and all the medical knowledge I picked up from Google, I think the Joker either has some sort of laughing sickness, the chicken pox, or swine flu. Let's hope it isn't swine flu.
"We are thrilled to build a global game franchise from Batman: Arkham Asylum, which is receiving an incredible response from gamers and Batman fans around the world," said Martin Tremblay, President, Warner Bros. Interactive Entertainment. "Rocksteady has taken Batman to a new level in the video game space and we are committed to delivering a sequel the fans will love."
"Getting the opportunity to create Batman: Arkham Asylum and seeing its success has been a dream come true for the team," said Sefton Hill, Game Director, Rocksteady Studios. "We are honored to create the next chapter in this compelling story and promise to deliver another game worthy of the DARK KNIGHT."