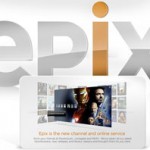 Epix HD and Epix standard-definition will launch on Verizon's FiOS TV network this Friday, Oct. 30. The Verizon-exclusive service (a deal reached in July '09) will also launch online, providing FiOS TV/Internet subscribers with 150 movies per month. This weekend, the network will offer a free preview and feature a two-hour Madonna concert "Sticky & Sweet: Live from Buenos Aires."
The Epix HD channel will be found on FiOS 895 and the standard-def on 395. Epix will also offer its content on-demand through FiOS. The free preview will run from Oct. 30 through Nov. 1. After that, the channels along with internet access will cost $9.99 per month.
Other featured content upon launch of the new network includes "Iron Man;" "Eddie Izzard: Live From Wembley;" "The Curious Case of Benjamin Button," "Madea Goes to Jail," "Pink Panther 2," "Indiana Jones and the Kingdom of the Crystal Skull."
Epix is a joint venture formed by Viacom Inc., its Paramount Pictures unit, Metro-Goldwyn-Mayer Studios Inc. (MGM) and Lionsgate. The premium TV and online channel will broadcast recent releases from Paramount, Paramount Vantage, MGM, United Artists and Lionsgate, as well as classic films.