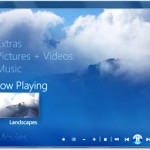 Apple and PC manufacturers are set to release upgraded hardware technology this week in anticipation of Microsoft's Windows 7 release.  Apple's upgrades are simply shots across the Win7 bow, but PC manufacturers are gearing up for Win7 by utilizing high-definition screens as well as touch-screens compliant with the updated OS.
However, neither Apple (quashing the "widely anticipated" rumors) nor Microsoft is including native Blu-ray support in any of their upgrades.  Apple would have to tweak their recently updated Snow Leopard release for native Blu-ray playback, and with today's announcement of new iMac's and the upgraded Mac Mini, it appears that Apple's main focus is on the new iMac's higher-than-high-definition display and cool multi-touch mouse.
Rather than top out at 1920×1080 HD resolution, the Apple displays go beyond that, offering 2560×1440 resolution and the 16:9 aspect ratio crucial to capturing the widescreen theatrical experience (curiously, there is no HDMI support whatsoever).  The LED backlit screens of the new iMac line promise to be brighter and handle HD playback better… but not through Blu-ray disc technology.
While Microsoft apparently will not offer native support Blu-ray in Windows 7 (no playback of BD through Windows Media Center, folks) it will allow users to burn data to the BD format via the Image Mastering API Update for Blu-Ray Media that was released some time ago in the Windows Feature Pack for Storage 1.0 update.
Microsoft feels that it got burned on HD-DVD, which it largely supported, and isn't going to go down the hi-def route with built-in Blu-ray… a format that may not be long for this world given the growing acceptance of video-on-demand and the higher capacity of today's broadband technology.
Of course, that's been Apple's longstanding attitude: the company could give two shits on a high wind about Blu-ray.  Steve Jobs has never favored the format and prefers that the Mac elite purchase hi-def downloads from his own iTunes store for playback via iTunes and/or Apple TV.
Folks can certainly dream about native BD playback on Macs, but don't hold your breath.  Jobs doesn't believe the format will ever gain support in the marketplace and sees only a future of downloadable/streaming content for use on his proprietary devices.  Look for current Blu-ray media manufacturers to fill the gap for PC's (and possibly Mac users via external USB devices)… Microsoft certainly doesn't mind how the hardware or the third-party software used to view BD on PC's turns out as long as it sells more Win7 upgrades to consumers.